Downtown Ceremony, Electric Reception!
Live Wire Athens is a nestled in the northwest corner of downtown Athens, Georgia. With both indoor and outdoor spaces, our venue is perfect for any season. From a breathtaking formal Ceremony in our Garden Courtyard to an electric reception in Robertson Hall, Live Wire Athens is here year round to help turn your wedding dreams into reality.
We know that wedding planning can sometimes be overwhelming, but don't fret. At Live Wire Athens we are eager to demonstrate our exceptional customer service giving you the individual attention you deserve for your custom wedding! We provide the tools and connections you need to create a magnificent day for you and your guests. After all, on your wedding day you want to relax and celebrate each intimate moment with the ones you love the most.
Just imagine
your wedding
at Live Wire Athens…
As your guests arrive they are greeted by a sign reading "Welcome Friends and Family" under the romantic glow of mason jar lighting. Enchanting harmonies play softly as the sun is setting in a breathtaking rainbow of color and guests are seated in The Garden Courtyard. A few notes of music cue everyone to stand as you take your place on stage. Staring lovingly into each other's eyes you say "I do." The lights around you sparkle against a deep blue sky as you celebrate with your first kiss!
The ceremony comes to a close with cheers from the crowd! You capture the moment with dazzling photographs in The Garden Courtyard while your guests make their way inside The Parlor. The intimate setting with rustic industrial decor and fully stocked bar provides the perfect place for your guests to enjoy casual conversation over a custom cocktail or local craft beer.
As the energy builds the large barn doors are opened to reveal Robertson Hall ready for more celebration! Elegantly decorated tables are placed throughout the room inviting guests to eat. Amazing photos submitted by your guests with your custom hashtag scroll on the screens. Several friends are viewing your personal photographs displayed on the gallery wall.
The music is cued and the words "Now introducing…" are followed by cheers and applause of your friends and family. You enter the room hand in hand, smiling from ear to ear. The band begins to play a slow melody for your first dance. You both look around and see all the special people in your lives enjoying this momentous occasion.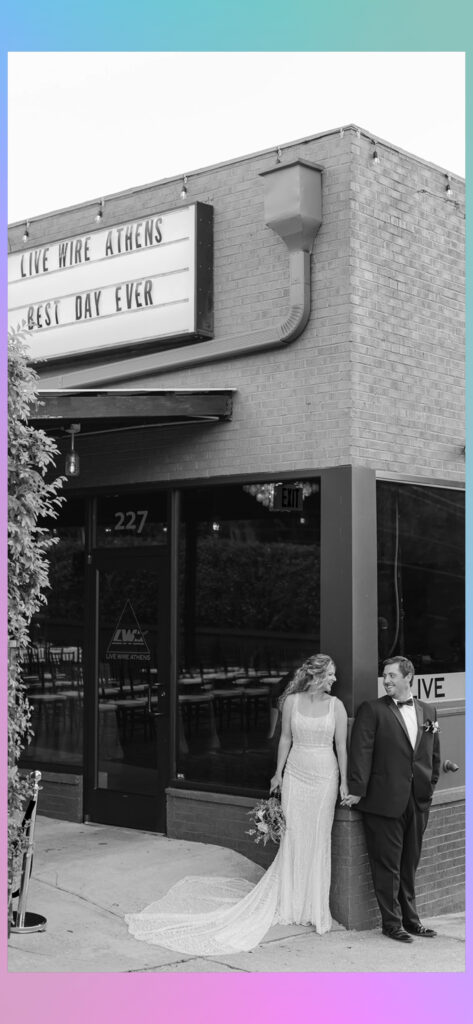 Everyone is here to celebrate you!
The festivities of the evening include sharing loving words with your guests, delicious food, and dancing. The party has just begun! Everyone runs to the dance floor as the band plays an epic dance song. The atmosphere moves from formal to electric as the lights flash and all your friends and family let loose on the dance floor.
Although you may be inclined to stay and dance the night away, it's getting close to time for your farewell! Everyone makes their way back into The Garden Courtyard lining up to send you off! Shimmering sparklers light the way for your grand exit. You look into each other's eyes overwhelmed with joy and excitement as you depart. It's been the most amazing day of your life, totally unforgettable!
As the celebration starts to wind down at Live Wire Athens, some guests walk back to their hotel for a quiet evening while others continue the celebration by walking just a few blocks to local restaurants and bars.
Rehearsal Dinner Packages start at $2995
Intimate Wedding Packages start at $2995
The Love Music Love Athens Package starts at $4995
The VIP Wedding Experience, the most inclusive package, starts at $9195
All packages include exclusive use of the venue, set-up and clean-up, tables, chairs, house audio and lighting, and staffing. Other inclusions vary by package. A more detailed outline of packages is available by request.
Venue capacities for Weddings
Full Venue Capacity for Weddings and Rehearsal Dinners is 250 guests.
Indoor: Robertson Hall and The Parlor
Seated Reception 175
Seated Ceremony 175
Cocktail Reception 250
Outdoor: Garden Courtyard and Deck
Seated Reception 160
Seated Ceremony 175
Cocktail Reception 175
Find Us On…